Mobile app design service package in Ho Chi Minh City from concept to programming implementation, trial run helps customers to own a professional mobile application with the desire to develop sustainably and in the long term. We are a great choice of many large and small domestic and foreign businesses to help businesses optimize costs and offer service packages suitable for the field of business, dedicated and thorough consulting.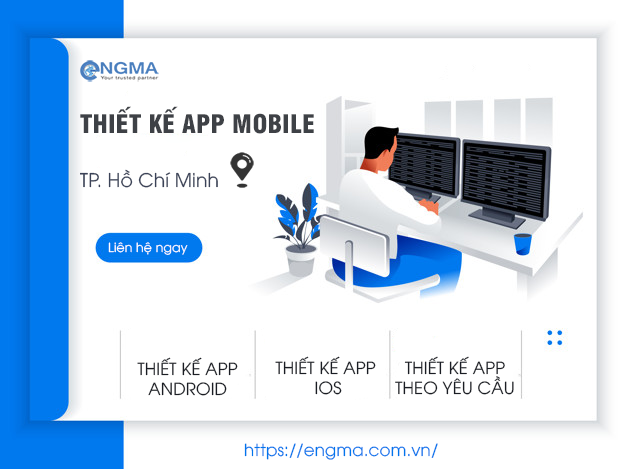 As customers know, mobile app is now a "fertile land" for businesses. In order to compete in the mobile application market, businesses must design Android and IOS apps so that they can be present on the two largest stores worldwide, Google Play and App Store.
To solve the problem of "increasing sales - profits" of customers, Engma provide you a package mobile app design service in Ho Chi Minh City.
Why does app design at Engma satisfy so many large businesses?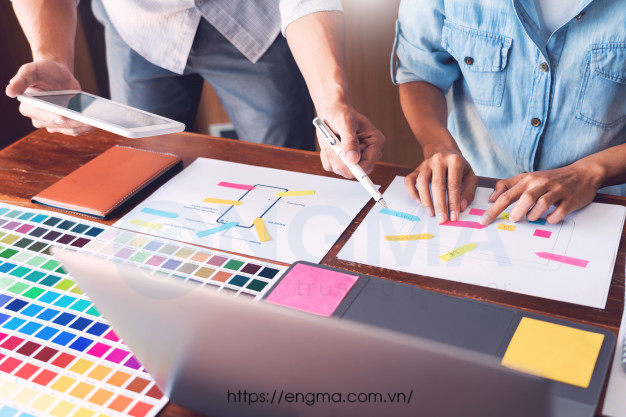 A successful application must comply with three criteria:
+ Beautiful and eye-catching interface
+ Outstanding simplicity
+ Easy operation
To meet the above criteria, we design an app with the following steps:
- Step 1: Read carefully the functional analysis of the application (performed by the consulting team of Engma company after many discussions with the customer) to understand the customer's requirements, functions, items. target, target customers that the app is targeting.
- Step 2: Market research: is understood as understanding the preferences of the user group that uses the app, finding out some apps with similar ideas, apps with a large number of users, apps that are praised. about the current design.
- Step 3: Make a plan to design the app: steps to do, how long does it take, meeting time, difficult issues ...
- Step 4: Start designing the app:
+ Draw wireframe: This step will help the app designer have an overview of the app pages to design, understand how the app works.
+ Note the notes of the customer.
Discussing and checking with the customer consultant team, the technical team.
+ Record feedback, revise.
+ Perform beautiful app design: this is a time consuming step for the app designer. Because it is extremely important, decisive to the success of the app.
At this stage, Engma's app designer had to think and solve many problems: choosing background color, choosing font, font size, image, designing everything as simple as possible. so that the user can focus on the main points, create the most spacious spaces, use familiar words, or use and understand the most easily for the user ...
- Step 5: After completing the beautiful app design, make an app demo to test the user experience. Team meeting, final editing before sending to customers to see.
- Step 6: Receive feedback, exchange with customers about the app design as well as revise the design (if any).
Why should you choose Engma company to design your app?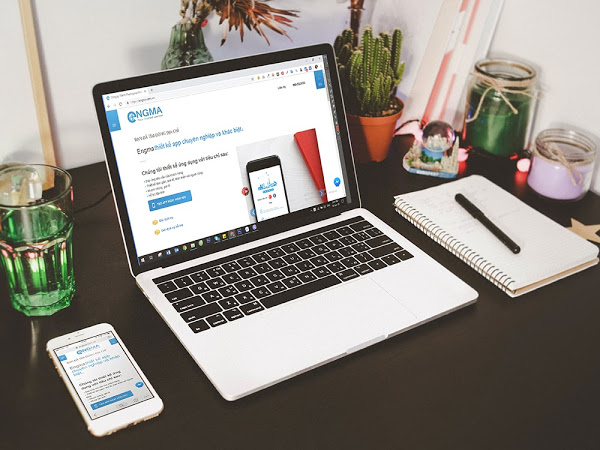 A team of experienced consultants, always listening and understanding customers' needs.
A team of good and experienced programmers who are updating and applying new technologies.
Working process is clear and strict, ensuring progress and product quality.
Design and programming for many projects in many fields: food and beverage, real estate, e-commerce, education, business, e-commerce ...
Reasonable investment cost, high efficiency.
We put customer service first, Engma's team is experienced in many projects and through each project we learn and cultivate new knowledge to become stronger.
Understand the wishes of customers, along with a professional app design team, understand and follow the necessary application steps, our Engma company is very confident in implementing mobile applications. Nice and satisfying user experience.